XXX, stylised as ×××, is chapter 30[Note 1] of the Are You Alice? manga series.
A mysterious man enters a cluttered room and complains about it. Reading some works, he asks questions regarding the real Alice to Lewis Carroll.
Once Alice stepped into the direction he chose, his wounds began to heal. He comes across with a woman he calls "Big Sister". Coming here, Alice begins to feel relieved, especially with his sister. Near the exit of Wonderland, a dark Alice appears, and his wounds begin to hurt again. The dark Alice blackmails him that it would be good if the real Alice would be gone – if "he" would be extinguished. Alice pulls out his gun and tries to kill him, but thoughts saying that he is not Alice come to his mind.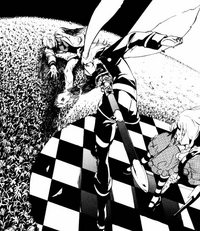 A lady appears and Alice finds out he is in a
mysterious place
. He sees the same lady in her throne and cannot remember who she is, though he knows her. He believes it is impossible for her to exist since he already killed her. She awakens and continuously tells him that he is not Alice. She demands also to give Alice in Wonderland back because she does not want a "little brother". The
White Rabbit
angrily appears and shouts to not touch her with his "filthy hands" and attacks him. When he calls her "Marianne", Alice denies him, saying that she is his "big sister". The White Rabbit also contradicts him, explaining that he gave her that name, but Alice recalls his past. It was raining then when he was born, adding that for the sake of being born and for the sake of killing his big sister, he exists. He stole everything from Alice, and that this is the proper story. The White Rabbit creates a ruckus that the conclusion will be a happy ending, killing him eventually by Alice of Wonderland. Just as he is about to say his name, the White Rabbit pins him down, and Alice cannot remember his name.