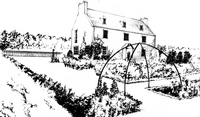 Marianne's maisonette is a little house where Marianne seemingly lives with her pet cat Dinah. It is also implied that this is also where her "teacher" stays or visits.[1]
The house is mounted on a garden with plants all over, serving and looking similarly like an orangery. The house is a tall, tenement-like structure with at least eight windows and three hip roof dormers, having a hexagonal roofed porch covering the main door. The whole domain is also surrounded by a fence.
Inside, its flooring is wood-tiled and contains a small table good for two. Since Marianne was able to cook the pastries she served Alice, it is presumed to have a kitchen. There is also an armchair near the table where Dinah usually rests.[1]
References
Edit