Bibi (ビビ, Bibi) was a young resident of Wonderland.
Background
Edit
Bibi was a young child and a friend of Rogy and Coco. Later, he apparently befriended the Duchess along with his two friends. He presumably stayed at an abandoned house together with his two friends. He was one of three children who were executed by the Queen of Hearts for violating a taboo in Wonderland.[1]
Appearance
Edit
Bibi had brown hair shaped into a bob cut with some bangs covering his forehead, large brown eyes, and freckles on both of his cheeks. He wore a dark shirt under a cardigan with vertical stripes, rolled pants with at least two rectangular patches, and a pair of moccasins.[2][1]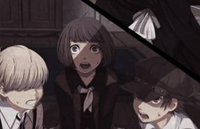 In the PSP game, Bibi appears with Rogy and Coco, but he had a slightly different appearance from the manga. He wore a dark brown-coloured collared shirt with a loosely-tied white ribbon. Over this, he wore a brown jacket with dark brown sleeves which he kept open. He also seems to have no freckles on his cheeks.
References
Edit
↑ Are You Alice? manga, Chapter 12